Ingredients
DOUGH: semolina, water, egg powder, emulsifier: soy lecithin, preservatives: calcium propionate and potassium sorbate, acidifier: citric acid.
STUFFING: breading (wheat flour and water), water, beef (7%), vegetable oil interesterified soybean and cotton, spinach flakes (1%), salt, seasoning mix (ground coriander, nutmeg, paprika, ground cinnamon, curry, black pepper, garlic powder, bay powder, ground cumin), onion flakes and flavoring identical to the original.
INCLUDES: GLUTEN, EGG, AND SOY. PROCESSED ON LINES WHICH ALSO PROCESS DAIRY PRODUCTS. DO NOT SERVE TO CHILDREN UNDER 12 MONTHS DUE TO ITS NITRATE CONTENT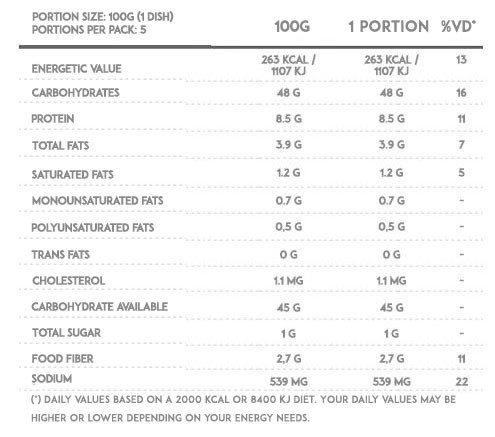 Conservation
Keep refrigerated from 4°C to 8°C – In freezer at -18°C up to 12 months – Once thawed do not refreeze. Once the container is opened, consume within 24 hours.
Presentation
500 GRAMS